The History of Hand-painted Backdrops
Have you ever wondered about where is the Hand-painted Backdrop originated from? How can the Hand-painted Backdrop be so charming and fantastic? Are there any historical factors behind all these features? This article will show you some viewpoints.  
Origin
In the early 14th and 15th century, a new painting style generated along with the development of religion, that is, mural. Artists painted various murals to decorate the churches and other ecclesiastical buildings. As this kind of painting was used for enhancing the solemnity and holiness of the environment and architecture, they were generally themed by religious subjects. When things went back centuries, in ancient time, people would carve all sorts of patterns in the caves, on the wall or pillars of the architecture to record their life-time or mythologies, which could be found in many countries' history. This artistic form was seen as the original mural.
When making a comparison between the hand-painted mural and the Hand-painted Backdrop, you may found they have so many similarities: both hand-painted, both for decoration, both displaying scenes, both with high-level art senses. That's why we take mural as the origin of the Hand-painted Backdrop.
Development
As a star product, hand-painted scenic backdrop became a stand feature of early portrait photograph studios from the 1860s to the 1920s. The early stage of Hand-painted backdrop was made with raw cotton and painted by tempera or chalk. At this stage, the most common backdrops were those depicting landscapes or elaborate architectural interiors. By using specific light set, there would bring forth unique and fine art photograph. With the spring-up of the hand-held cameras and digital cameras, photograph turned out to be more flexible. People were more likely to shoot in real locations and lost interest in constructed landscape. Therefore, the popularity of Hand-painted Backdrops faded away.
Another unexpected pop was Hollywood hand-painted scenic backdrop, which yielded unusually brilliant results along with the Hollywood's golden age. In almost every feature film of Hollywood's golden age, the picture-perfect backdrops occurred in some of Hollywood's biggest hits. The colossal panoramas were elaborated painted by artists to bring a unique intensity and fine-art sensibility to the film industry. By blending into the film scene undetected, the moviegoers successfully persuaded the viewers that what they saw in the movie was definitely real. If there must be some cases, Ceiling Zero by Warner Bros., Ghostbusters by Columbia Pictures, The Wizard of Oz by MGM, even the contemporary big-budget movie Interstellar are all in this list. Due to the high-speed development of digital technology, the hand-painted scenic backdrop was supplanted by using green screens and high-tech special effects.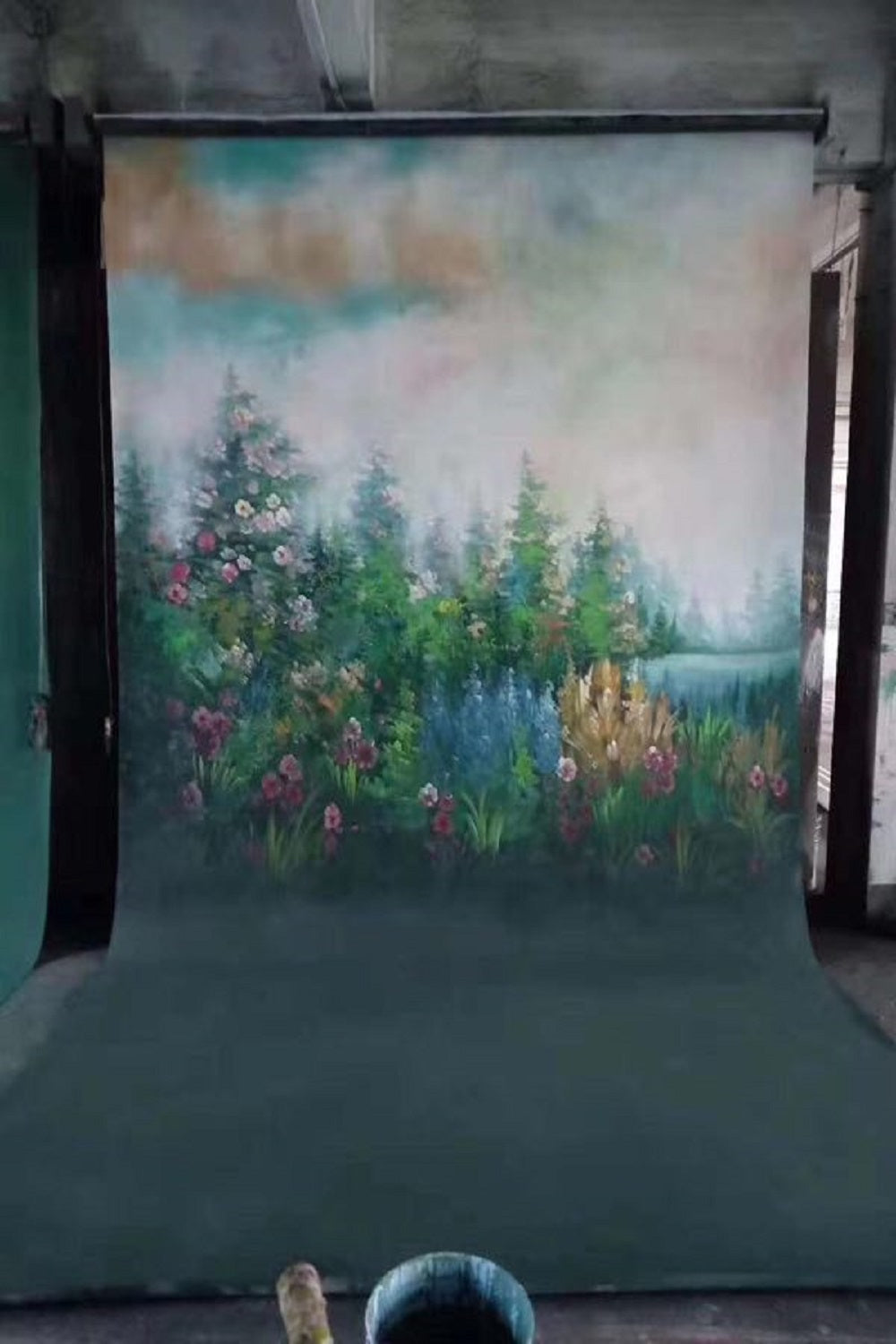 Nowadays, Hand-painted Backdrop is in an age of renewed popularity. CLOT Hand-painted Backdrop is considered as a perfect choice for high-end photo shoots for its unique texture and distinctive patterns. Using the canvas as the raw material, it can easily hold dyes, paints and oils, which creates special visual effect into the fine art photograph. Therefore, CLOT Hand-painted Backdrop wins high popularity in professional photographers.  
If you like this blog, please share it!
If there is any other idea about CLOT Hand-painted Backdrops, please contact us!
Join our Facebook Group:https://www.facebook.com/Clotstudios for more discussion and discount information.
Leave a comment